UPDATE! 11-19-2014 Looks like this one has gone down the tubes. If you try and buy you get:-
IMPORTANT!
This product is inactive and/or no longer for sale. This product has been disabled for one or more of the following reasons:
Limited quantities
Limited offer period
Terms of service violation
So don't even bother.
Average User Rating: Penny Stock Egghead Review, 5.0 out of 10 based on 16 ratings (see user reviews):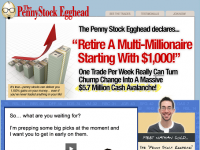 Website: www.pennystockegghead.com
Pick Quality: N/a
Biased: No
Methodology: This guy attempts to get you in early on the next big penny stock riser, the next Wal-Mart and while that might be wishful thinking the starting point for a new subscriber is a modest one trade a week. A hand picked trade that can start to grow your seed capital exponentially.
Overview: Nathan Gold (is that his real name?!) is the nerdy egg head behind Penny Stock Egghead. This shy, retiring type has produced one of the most hyped sales pages we've ever seen complete with a totally hypothetical trading record that turns $1000 into $5.7 million!
Just so you get a taste of the potential, you understand. LOL!
That said, he is prepared to back up his claims with an 8 week money-back guarantee and from the research we've done around the trading forums and message boards, not many people take him up on it.
He's also honest enough to state up front that you're gonna need some capital (around $1,000) to get started and that you should paper trade his picks before diving in with real coin.
That's good advice coming from any fellow investor.
'Out of the box' you get a downloadable quick-start guide on how to trade penny stocks which is great for newcomers.
And his picks? Early days for us yet, and we're still paper trading but so far we've shown some good paper returns after the first pick we followed bombed.
Cons: You do need at least $1,000 to get going, maybe a bit more and you really do need to totally ignore the over-hyped sales pitch.
Bottom Line: At $97, and with a cast-iron money-back guarantee, this could be considered a no-brainer. But all investment is risky so, if you do take the plunge, paper trade first.
Click here to see our Review Disclosure Policy.
Penny Stock Egghead User Reviews
GD Star Rating
loading...
Please rate Penny Stock Egghead from your own experience via the comment form below:-