Average User Rating: Penny Stock Prophet Review, 4.5 out of 10 based on 13 ratings (see user reviews):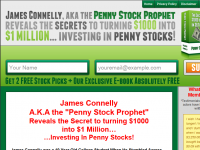 Website: www.pennystockprophet.com
Pick Quality: 6/10
Biased: On Occasion*

James Connelly,  A.K.A the Penny Stock Prophet was, supposedly, a broke MIT student who discovered the secret to making a fortune investing in small and microcap stocks.
Overview: The sales page is really over hyped. In particular the part where he promises to only teach 50 people the secret. There's even a countdown on there (12 places left when we looked.) Gotta be honest and say this really put us off. He's not going have a limit, it's a newsletter!
Anyway, we'd heard quite a bit about this in forums, etc. so we thought we'd check it out. And we were pleasantly surprised.
Methodology: Connelly uses his own mathematical algorithm based on how the Psychological Support Level (PSL) affects his 4 shared variables of analyzing winning stocks.
You then get an email of recommended stocks. And not just that. Each recommendation is accompanied with an analysis and advice is given on investment size.
We think this gives greater confidence rather than just provide a list of stock recommendations.
Cons: None really apart from his 'limited number of vacancies' thing. I mean we suppose it could be true that he has set a limit but frankly we doubt it. So why say it except to hype things up.
*On occasion PSP receives compensation from a third party in relation to the profiled companies in the newsletters and e-mail alerts sent to our members.
Bottom Line: Despite the hype we would definitely suggest you give this one a trial. If you don't have the confidence or the time to do the study necessary to pick out your own penny stocks, The Prophet does a pretty good job overall. Don't expect all winners as that doesn't happen with any newsletter.
FREE PICKS: Want an easy way to check out the Penny Stock Prophet before joining?
Click here to see our Review Disclosure Policy.

Penny Stock Prophet User Reviews
GD Star Rating
loading...
Please rate Penny Stock Prophet from your own experience via the comment form below:-